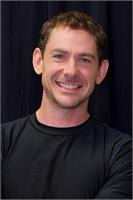 Zach Berbig
FXB Member since: October 2015
Biggest surprise about FXB:
First, it was that ANYTHING could consistently get me out of bed and doing something productive by 6AM!! .... I later came to find that some people (of whom I am now one) are actually up and at em BEFORE 4AM! Who knew?!
Favorite FXB Food:
Chicken Cordon Blue burgers
My Favorite Fun Day Food:
Any number of adult libations could arguably fall into this category
Bags or Bands:
Bands
How has FXB changed/affected your life:
I feel more fit than ever. I feel healthier than ever. I have met SO MANY wonderful people! Incidentally I love working with my beautiful wife and mother, and Jim too! Most of all though the work we do at New Hope FXB is so exciting, fun, and meaningful. I'm so honored and humbled to be even just a small part of the truly life-changing work that we see affecting so many lives session after session! I have had a hunger deep down in me for a very long time for meaning and purpose in my daily work, and FXB has helped me attain that.