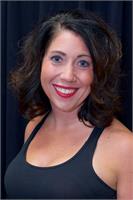 Carrie Campion
Why did you start FXB?
I started FXB because after my first trial session, I fell in love! I also liked the fact that it was 6 days a week!
What did you gain from Farrell's?
I have gained many things from Farrell's. I gained strength, dedication, friends and most of all a happy me!
Why are you instructing?
I instruct because I am a stickler on form! I also instruct because I have always wanted to teach exercise in some way, and this was the perfect fit for me!